You want to live an unique experience outside the city with alternative and electronic music?
Surrounded by a natural environment we find the farmhouse Can Gascones in Llagostera, Catalunya Spain, a farmhouse of the XVI century that
on Saturday July 23 will host one of the most original and attractive summer events of the season.
Moritz Festival'Era commitment is to give to the spectator the comfort, an enclosure small size but charming festival with national and international artists that would be impossible to see in a bucolic landscape to set with these characteristics.
This "handmade" festival stands out from other live programming with as simple as providing maximum proximity between audience and artist concept.
Sharing path with walkers and sheeps we will enjoy of live acts of the incredible producer and composer SOHN, The Bristol based Julio Bashmore that will make everybody dance with his vintage house, and talking about that, nostalgic but fresh sounds from Madrid, the new pop of Hola a todo el mundo also known as HATEM,
the electric-electric-pop of Maïa Vidal, the ex member of Unfinished Sympathy Joan Colomo will show to ERA his folk rock,
and we can´t miss the genious Marc Piñol and his amazing sound, not to forget the riffs of the bad kids The Suicide of Western Culture and their sci-fi electronic punk.
A dozen of artists will be part of this unique experience with its own personality.
To round off the evening, this unique festival will feature a varied cuisine organic food "km 0" accompanied by different food-trucks of first level where you can also enjoy the experience of "making vermouth" thanks to Espinaler.
Time Schedule:
Hours: 17h until 6h.
To facilitate the return, the organization offers a reduced price-bus service from Barcelona and
a free shuttle bus from the train station Caldes de Malavella.
FREE Camping and parking.
SOHN
London-Vienna based songwriter and electronic musician Toph Taylor aka SOHN started making music in 2012, with just few tracks online that signed on the Aesop label and release his first album called The Wheel.
SOHN gained immediate acclaim and great reviews of the press, he was signed to 4AD, releasing several singles leading up to debut album Tremors, in 2014.
Taylor worked on remixes and made collaborations with artists like Rhye and Lana Del Rey.
HOLA A TODO EL MUNDO
Taking the name from the title of a poem by Walt Whitman, Hola a todo el mundo born in the spring of 2006. Rehearsing at home, surrounded by instruments, they shaped their first compositions.
Songs of different passages, like a journey, moving forward and never going back. "A light that guides us to find the only truth of the spirit" as they explain in their lyrics, sometimes a bit prophetic, a mixture of fables and soothsayers stories.
THE SUICIDE OF WESTERN CULTURE
Their origins, in the outskirts of a city with an important music scene, have totally moulded both the philosophy and the sound of the duo: ethical principles close to those of radical Basque rock bands, textures and melodies that are influenced by early 90s IDM.
Their new album is the best so far. Everything
that they have been developing over the past
few years has been perfectly encapsulated in
"Amor de Madre", drones that turn into dreamy melodies, those grand drums that are full of
punch and a sound that is somewhere
between dark and epic.
MAÏA VIDAL
She defines her sound as Eclecto-Pop (a catch-all genre that she made up); an intoxicating mess of influences that include folk, electro, world music, and jazz, but that all coalesce into a shimmery love-drunk pop. On stage, she's known for her soul-sharing, high intensity, and truly devoted performance, and while much has been written about her infectious smile... mostly, she's barefoot.
She can be an unpredictable whirlwind of musical styles and different cultures, but with 3 albums already under belt, she's proved to be a prolific force to be reckoned with.
MARC PIÑOL
Music journalist since 1994 and DJ since 97, Marc Piñol began playing records at Nitsa Club (Barcelona) in 1999 and he was playing there as a resident until 2013. He has been elected best DJ of the year several times in the most important Spanish music magazines.
As a DJ, he can play almost every kind of music,
After several collaborations, Piñol is now involved with Hivern Discs, releasing his own productions and remixes.
JOAN COLOMO
With a solo album that represents one of the most interesting and refreshing surprises of the season, and with its culture bicefalia, among Navarran roots and rootedness to the hills of El Montnegre, Colomo gives a revolutionary twist to the Spanish song with the Catalan song; with an unprecedented lyrical on it to date he faces a brutal aggressiveness content with a touching naivete formally.
JULIO BASHMORE
DJ, producer, and label owner from Bristol, England, Julio Bashmore predominantly made house music infused with U.K. bass. Bashmore's big break came when he had music scheduled for an EP release on Claude VonStroke's Dirtybird label in 2009. This prompted him to cancel his plans to go to university in favor of continuing to DJ and produce music.
BAYWAVES
Hailing from the north of Spain but now based in Madrid, Baywaves craft pop songs that melt shiny melodies and marine reverb vibes. Newcomers in the spanish scene, the quartet soon gained international attention with a couple of auto produced singles and live sets, first snippets of their personal hipnopop sound!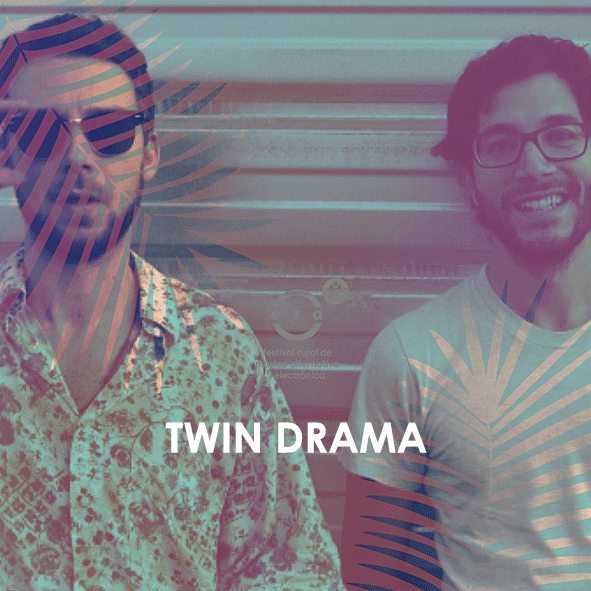 TWIN DRAMA
With the intention of having a good time, the band was born in the summer of 2015 .
Soon, they start to make songs inspired by summer who are living to put the soundtrack to the Mediterranean's waves .
With a guitar, a tom and a snare, Xavi and Fernando sing bright , simple and full of positive energy tunes .
After shaping their songs with their first demo, TWIN DRAMA presents a direct enthusiastically based on a main idea
INSPIRA
Inspira is a grup of cult in the Barcelona scene. With 10 years on the road, three albums, and their great reviews from the media and good critics from the public, the are back to present in ERA to present their new album "Greta"
SORRY KATE
Sorry Kate is a music quartet formed in 2014.
Based in Madrid, the band has been one of the local revelations of the season by recalling the sound of the first years of Animal Collective.
However, this has changed completely.
Their sound now explores the pop collage as a meeting point to stylistic diversification.
RAN RAN RAN
With the leead singer Ferran Baucells, capable of being dark, and light, able to catch you on a journey through his mythologized landscape.
Ran Ran Ran, comes back with a compilation of his first recordings captured at different times and spaces featuring all sound cards and vital world of Ran Ran Ran.
MORITZ FESTIVAL'ERA is not only a festival.
Era is a project with character and soul, and far away to be a similar-massive event
like the festivals around the world.
That's why Era is nowadays is a Festival Boutique for excellence.
Era believes in making the things with their personal touch and believing in this values, and giving them to the audience, what it matters is the quality not the quantity.
23/07/16
Llagostera, Catalunya Spain